Anti drone activists performed nonviolent drama, demonstration, protest and disobedience at Creech Air Force Base in Nevada against the killing of foreigners by use of drone aircraft which are headquartered there.  Killings which are intended to be targeted assassinations of militants and which include innocent collateral victims.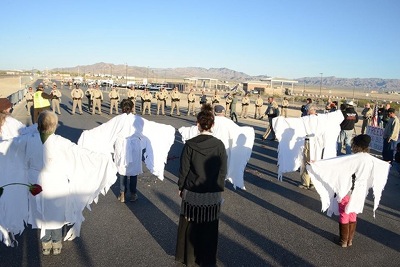 Protests began on Thursday, March 31 with demonstrations that blocked the eastern main gate.  Eight activists, including 7 veterans were arrested.
At 7:00 AM  on Friday, April 1, demonstrations continued at the eastern gate.  A group of six children and eight adults dressed as angels, performed a mock drone attack on a funeral.   A ballerina led the procession, laying red roses on the entry road of the main gate, followed by the other children carrying a casket.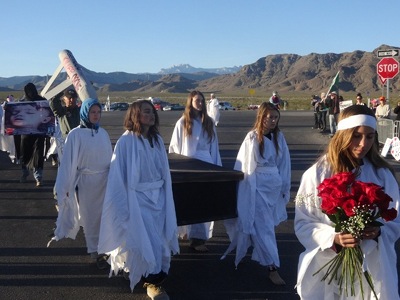 The funeral procession was interrupted by a simulated drone attack that "killed" and "injured" many of the mourners.  The activists demonstrated the gruesome U.S. practice of firing missiles into funerals for victims previously killed by U.S. drone attacks intending to kill other militants.
This action blocked the gate. Seven adults were arrested after they refused to  leave the roadway after a 5 minute warning.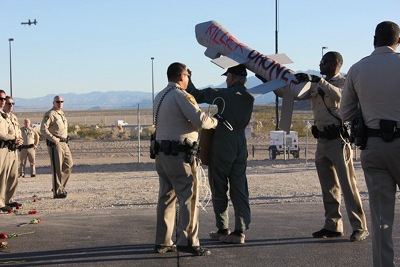 Actions took place at the other two base gates.  The blockade at the 2nd gate focused on the criminal aspects of the U.S. drone assassination program.  Activists stretched yellow crime scene tape around the base sign and across the entrance to the gate, preventing vehicles from entering.  One protester laid across the roadway to portray a drone victim.   And at the western gate a small group held a silent meditation vigil for peace.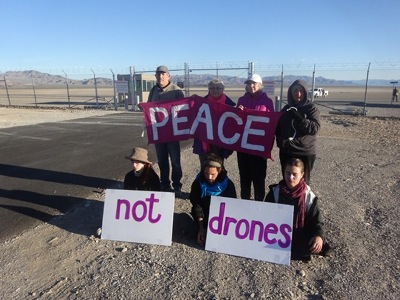 "Many Creech personnel arrived to the base before the normal 6-8am rush hour on Friday, presumably to avoid the protest.  Activists who participated in this collective effort consider even that a success because the protest is having a direct impact on daily drone operations.  These sustained actions are forcing the military to change their daily routines, and potentially stimulating more discussion about the drone policies in question and the growing national opposition to drone killing,"  says Toby Blomé, one of the organizers. "We deeply hope that our voices will one day soon be heard, and the expanding use of these deadly and destabilizing weapons against the most vulnerable people in the world will cease."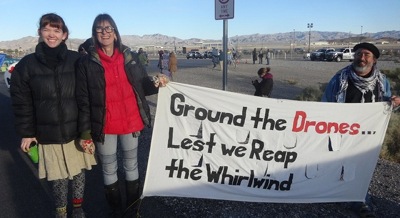 This week-long program and two days of direct action led to 25 arrests.  This is the second annual National Mass Mobilization Against Drone Warfare – Shut Down Creech.  Activists from over 20 states participated.  Activities included daily rush hour vigils, nonviolence training workshops, and strategizing meetings.  For more information click on www.shutdowncreech.blogspot.com