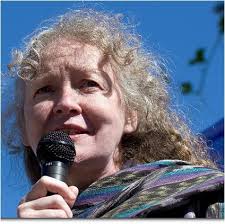 Kathy Kelly will join anti-drone demonstrators at Beale Air Force Base for a Good Friday prayer vigil.
Good Friday, April 18th, 3 to 5 p.m.

 — Prayer Vigil will include songs, prayers, Holy Communion, and reflections from Kathy Kelly.  Several people will attempt to deliver a letter with "A Call from People of Faith to Stop Drone Killings."  This will take place at the Schneider (Main) Gate of Beale AFB,  4875 N. Beale Road.

The day following the Vigil, April 19th,  Kathy Kelly will speak at Tomes Bookstore in Grass Valley at 1 p.m., on the topic: "Seeing Through the Smokescreen: War and Peace in the 21st Century".   Kathy is coordinator of Voices for Creative Nonviolence, a campaign to end U.S. military and economic warfare.