Lev El-Askari
from: The Union – Other Voices Jan 26, 2016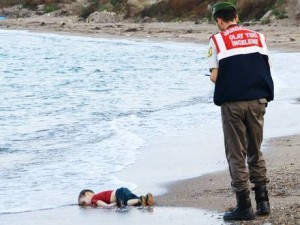 We are all familiar with the image of the 3-year old Syrian migrant boy washed ashore in Turkey last year, which is now the symbol of the refugee crisis.
Millions of Syrians are risking their lives to escape the dual threats of the Assad regime and the Jihadists. There has been a debate in Europe and the U.S. about if we should accept Syrian refugees and how many.
How did we get here?
When Hafaz al Assad became President of Syria in 1971, he established himself as an authoritarian ruler. Syria had been in a State of Emergency since 1962 — due to its ongoing war with Israel — under which Assad took away constitutional rights and protections of Syrian citizens.
When Hafaz died in 2000, his son, Bassar al Assad, was elected president, although he ran unopposed. It was illegal to run a political campaign against the Assad family or criticize their policies. While, at first, it seemed as though Bassar would enact positive political reform, he soon regressed to his father's legacy of oppression and internal violence.
From 2006 to 2011 Syria faced one of history's worst droughts, which surpassed what could be classified as a natural weather variation. It was directly related to climate change.  Eighty-five percent of Syria's livestock died and the land was too dry to support the crops of the region.  Assad did little to nothing to help the suffering farmers and those who voiced complaints publicly were often imprisoned, tortured or killed. After millions lost their farms, they had nowhere to go but into the overcrowded cities to search for jobs.
When a group of teenagers in Damascus began to protest, they were arrested and tortured. Their family members marched to the governor's house and sparked a city-wide protest. Soon, there were protests all throughout Syria. This movement was a surprise to the international community. Under Assad's rule Syria had been under one of the most stable regimes in the Middle East. Many experts concluded that the significant impact of climate change was what thrust the nation into turmoil.
In March 2011, Assad fired the first shots against peaceful Arab Spring demonstrators. In July, the protesters started firing back and received support from defectors of the Syrian military that called themselves the Free Syrian Army. This marked the start of the civil war. Jihadists from around the region began to back the rebels. Assad released Jihadist prisoners to join the civil war in an effort to taint the image of the rebels. Eventually this became a three-way conflict between Assad, the rebels, and the Jihadists, which made it difficult for foreign powers to know whom to support without accidentally giving more power to Assad or the Jihadists.
The violence and instability in Syria increased to the point that 12 million Syrians were forced to flee their homes, of which 4 million are now refugees. Nearly half of these refugees are children. Last year, more than 700,000 refugees risked everything to travel to Europe to gain asylum.
Going back to 2003, when U.S. troops began occupying Iraq, we hurt innocent people, created mass unemployment, and completely destabilized the region — all in the name of "democracy." The radicals were able to use this as a form of propaganda to turn Iraqi citizens against the U.S., aiding the rise of al-Qaida and eventually ISIS. More recently, within six weeks of the U.S. airstrikes on ISIS, reportedly 6,000 new members joined ISIS, significant since ISIS reportedly has about 30,000 total members. Our actions in Syria and Iraq have aided the recruitment efforts of radical Jihadists.
The United States can help in the fight against ISIS by supporting the neighboring countries in the Middle East. Currently, many of the wealthy and powerful countries in the region have done little or nothing to combat terrorism. Saudi Arabia has the world's third largest military budget yet they seem to be much more concerned with the conflict in Yemen.
We need to stop air strikes that fuel propaganda against us and cease sending American troops into the region. After ISIS is defeated and the region is stable, we must wait for the Syrian people to form their government and then support them.
In the long term we must repair the damage that we have done in Syria and Iraq. We need to fund a public relations campaign that portrays democracy as a positive form of government, instead of a complete destabilizer. Let's show love and compassion for all people in this world.
This starts with taking in Syrian refugees and leading the humanitarian effort to help those in need. In doing this, we will demonstrate our compassion as a country, and thereby rewrite many of the negative stereotypes that other countries have about the United States.
Lev El-Askari is a senior at Forest Charter School in Nevada City.