The Peace & Justice Center joins CampaignNonviolence.org and invites people of all faith, conscience and good will in the spirit of nonviolence to speak out publicly for an end to war, poverty and the climate crisis on September 21st.
2 PM  "Give Peace A Song"
Sunday, September 21, 2014
Nevada City Vet's Hall, 415 N. Pine Street
2:00 to 4:00 p.m. 
Speakers, Music and a Community Sing-a-long!  Free Food!
For more information call (530) 615-7859 or email ncpeace@sbcglobal.net.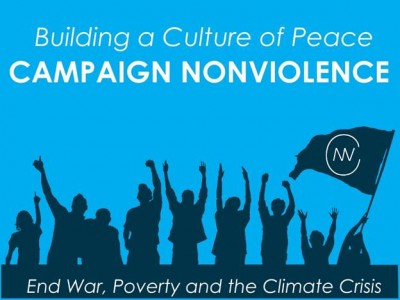 4 PM   "People's Climate Rally"
Following the Sing-a-long, people will gather for a short rally and march at the Nevada City Vets Hall, 415 North Pine, with signs and banners calling for strong action on climate change.    This action is being held in solidarity with other mass rallies being held in New York and around the world, in advance of the United Nation's summit on the climate crisis, which will begin on September 22.
Event sponsored by the Peace and Justice Center of Nevada County, Earth Justice Ministries, and Nevada County Climate Change Coalition's Direct Action Committee.
7 PM   FILM "Wisdom to Survive"
Nevada City United Methodist Church, 433 Broad Street
The film "Wisdom to Survive: Climate Change, Capitalism and Community" will be followed with a discussion led by Sharon Delgado on the links between war, poverty, and climate change and what can be done to address these challenges.  Free, donations accepted.
Sponsored by Earth Justice Ministries.