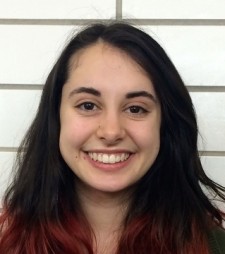 From: The Union Other Voices July 18, 2015
Elissa Karim
As a concerned student and Global Zero activist, I understand the immense threat of adding another country to the nuclear club, whether it be Iran or Indonesia or Canada.
As a young child who knew little of WMDs and political maneuvering, war and bombs seemed wasteful to me. In lives, in money, in effort.
Now a decade later, as a college student majoring in political science at Cornell College, our tactics make even less sense. Our leaders in Congress are willing to drop billions of taxpayer dollars to overhaul the world's most destructive nuclear arsenal, but are unwilling to pursue diplomacy with a foreign nation. Now that we have reached final nuclear deal with Iran, the international community has demonstrated it has the desire to use peaceful dialogue to resolve challenging issues.
We cannot let Congress solely halt this exciting step for the international community towards nuclear disarmament, peace, and international safety because they prefer war over diplomacy.
We are being presented with a exciting opportunity, not only allowing us to advocate for worldwide nuclear disarmament, but to prove compromise and cooperation work in the face of relationships steeped in over 50 years of animosity and violence. The Iran deal passing through international community marks an historic moment for diplomacy to prevail. This deal has requirements that limit the feasibility of nuclear weapons refinement while allowing slow growth towards an energy program. The deal reached between the P5+1 and Iran on July 14 reduces Iranian facilities and gives the International Atomic Energy Agency the ability to regularly inspect the Iranian nuclear program.
The deal does two positive things: first, it requires effort towards maintaining a continued relationship as we collaborate with Iranian nuclear officials. Second, under the deal, the international community maintains the power to hold Iran accountable for its nuclear program. For those economically driven realists, the deal still allows the U.S. to snap sanctions back into place anytime, providing a safety net if Iran fails to follow through on their end of the deal.
However, the possibility that Congress will reject the deal leads us down a dire path. Constituents of the US are now recognizing the vital importance of the Iran deal, who consider both the United States' welfare, as well as our global obligations to safety. However, Congress is operating through frightened and self-interested authority that must not be allowed to interfere with global negotiations. As nuclear weapons are globally all-encompassing, Congress neither deserves or has the right to speak for all of civilization.
Without the deal's passage through Congress, we immediately fall back into the status quo confusion of sanctions and mistrust, which will only going to grow stronger if Congress rejects this deal. I cannot stress enough that remaining within the status quo is wrought with inevitable military involvement as the only other way to stop Iran from building a bomb. This deal is a major step toward peace, the safety of the global community, and towards total nuclear disarmament by 2030.
I urge Congress to not let another generation grow up thinking our country operates within unilateral, one-dimensional responses. I dare Congress to step outside their narrow purview for a second and consider the global stability the Iran deal provides to be in the United States' best interest. The deal's prohibition of Iranian weapons grade enrichment proves we are still on the path to zero nuclear weapons and that end goal is achievable. It's time to be afraid of the results of entering another conflict, not of successful diplomatic discourse.
I challenge leaders and decision makers of today to move past dated attitudes that resort to military conflict to solve international crisis. I challenge this world to embrace this successful and historical deal with Iran, with that same patriotic zeal currently misplaced towards the risky continuation of the United States' nuclear program and national criticism of the Iran deal.
Elissa Karim lives in Nevada City.
©2005 – 2015 Swift Communications, Inc.