President Donald Trump said last week that he would "absolutely do safe zones in Syria" to stem the flow of refugees into other countries.
Trump is expected to ask the Pentagon and State Department to draft a plan for establishing the safe zones, so it's unclear which specific measures he would authorize.
But experts warn that creating and defending safe zones inside Syria could lead to escalation — and potentially drag the US into a global conflict.
In the Syrian civil war, which is almost in its sixth year, the Obama administration supported Syrian rebels who opposed the regime of President Bashar Assad. But the primary US goal in Syria has been to eradicate terrorist groups like the Islamic State and Al Qaeda-affiliated factions.
Then, in 2015, Russia entered the conflict to help the Assad regime. Iran, a major Assad ally, is also involved in the conflict. Establishing safe zones inside the country could therefore provoke those countries — the US would need to defend the zone from external bombardment from both terrorist groups and a governing regime that has been known to indiscriminately bomb civilians.
"I do think that it presents escalation risks," Melissa Dalton, a senior fellow at the Center for Strategic and International Studies who was formerly a country director for Syria at the Department of Defense, told Business Insider.
"If the US decides to pursue a safe zone, it needs to do so in the broader framework that looks at what sort of levers, what sort of coercive measures can the US bring to bear on Russia, Assad, and Iran to ensure that the safe zone is not violated and to mitigate the risks of military confrontation."
It's unclear whether a safe zone would mean imposing no-fly restrictions above the territory, but protecting the airspace would most likely be necessary. And if that is the case, the US would need to be prepared to shoot down any aircraft that violates the no-fly zone — a move that could lead to war.
"I don't think my country is willing to risk World War III over Syria," Robert Ford, a senior fellow at the Middle East Institute who was the US ambassador to Syria from 2011 to 2014, told Business Insider in June.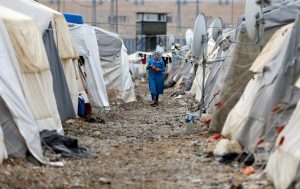 A Syrian refugee woman in the Nizip refugee camp, near the Turkish-Syrian border in Gaziantep province, Turkey, on November 30. REUTERS/Umit Bektas
Trump himself said in October that his then-political rival's plan for resolving the Syrian conflict, which included establishing no-fly zones and safe zones, would "lead to World War III." He used the same logic many experts are now using to express skepticism about his own plan.
"What we should do is focus on ISIS. We should not be focusing on Syria," Trump told The Guardian. "You're going to end up in World War III over Syria if we listen to Hillary Clinton."
He continued: "You're not fighting Syria anymore, you're fighting Syria, Russia, and Iran, all right? Russia is a nuclear country, but a country where the nukes work as opposed to other countries that talk."