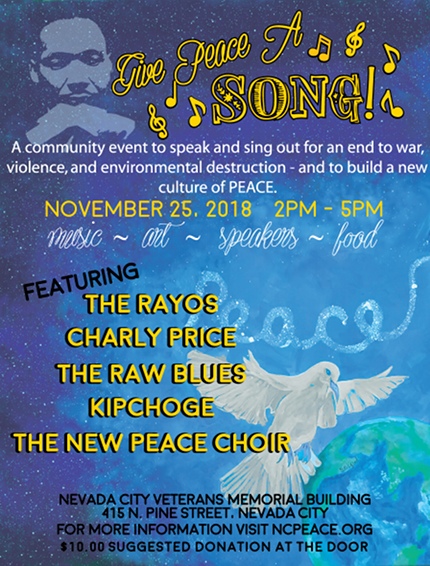 You are invited to "GIVE PEACE A SONG!", the Peace and Justice Center's annual open house and fund raiser, where artists sing out and speak out for peace and justice. This year we are proud to have music performed by the The Rayos, Nory Fussel, The Raw Blues, Kipchoge and Charly Price among others. Activist art will adorn the walls and we'll have some sing-a-longs too!
$10.00 at the door entitles you to the full program and refreshments! Give Peace a Song takes place on Sunday, Nov. 25 from 2-5 p.m. Nevada City Vets Hall, 415 N. Pine Street, Nevada City. Come for some or all of the program!
The Peace and Justice Center of Nevada County was founded by the late Utah Phillips, and Russ and Mary Jorgensen in late 2001 following the World Trade Center disaster and the US invasion of Afghanistan. The Peace and Justice center is a 501(c)(3) non-profit organization. It is not affiliated with any political party or religion and is dedicated to principles of nonviolence in all its events and programs. It has been going strong all these years organizing rallies, peace marches, street demonstrations, and providing support to like-minded organizations. Our Peace Recruiter program promotes peace and justice in our high school district and provides information and resources about careers, further education and the risks and realities of military enlistment through tabling and presentations. Our Film Forum shows thought-provoking films on the fourth Friday of each month at the Madelyn Helling Library.
As stated by Martin Luther King, Jr., "It is not enough to say 'We must not wage war.' It is necessary to love peace and sacrifice for it. We must concentrate not merely on the negative expulsion of war, but the positive affirmation of peace." And that's just what we will do together on November 25th!