When:
November 26, 2017 @ 2:00 pm – 4:30 pm
2017-11-26T14:00:00-08:00
2017-11-26T16:30:00-08:00
Where:
Nevada City Veterans Memorial Building
415 North Pine Street Nevada City CA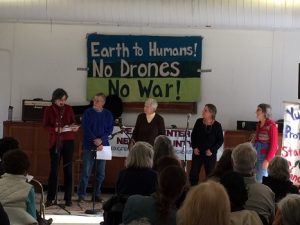 "GIVE PEACE A SONG" is the Nevada County Peace and Justice Center's annual party/fund raiser – giving a platform for those who speak out and to sing out for an end to war, violence and environmental destruction – and to build our culture of peace.  There will be: Music, Poetry, Activists, Food and hot beverages; Activist Art will adorn the walls.
Join in the sing-a-longs!
The entire Community is invited to attend!
Donations Gratefully Accepted!!!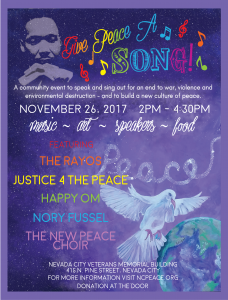 As Utah said, Nevada City is a "seed bed for activism" how right he was!  In recognition of the International Day of Peace, the Peace & Justice Center will host an exciting and inspiring program with offerings by local musicians, activists and organizations to string together a bright thread and hope for a peaceful future.  The "Give Peace a Song" event provides a platform for local artists to display works that bridge art, music and the social issues of our times.  The program features local song writers and musicians sharing with us their expressions with lively songs and music.  Slated on the program are Saul & Elena Rayo, Justice4thePeace, Happy Om, The New Peace Choir, poet Chris Olander, and more.  There will also be speakers including Dianna Suarez, Chris Hawkins, and Lorraine Reich
YOU ARE INVITED as people of faith, conscience, and goodwill in the spirit of nonviolence and hope to come and join in speaking out publicly for an end to war, poverty, and environmental destruction. The event takes place from Sunday, Sept. 26 from 2:00 to 4:30 p.m. at the Nevada City Veterans' Hall at 415 N. Pine Street, Nevada City.  Doors open at 1:30 to view the art.  For more information visit www.ncpeace.org or on Facebook.  The event is free and open to the public, but donations will be appreciated!  Free food and beverages.