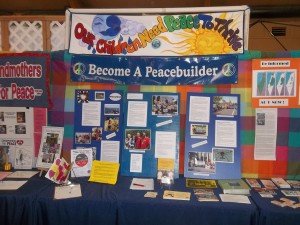 Visit us at the Nevada County Fair in the Main Exhibit Building.  Learn about these local Peacebuilding groups.
Our theme is "Our Children Need Peace To Thrive" and our partner organizations are:  Brady Campaign to Prevent Gun Violence Nevada-Placer, Peace & Justice Center of Nevada County, The Peace Alliance, Palestine-Israel Working Group, Creating Communities Beyond Bias, Nevada Union High School Social Justice Club.
Our local Peacebuilding organizations are: Alternatives To Violence Project, Child Advocates of Nevada County,  Partners Family Resource Center, Gather The Women of Nevada County, Mankind Project, New Events & Opportunities NEO.
Peacebuilding is any personal action, public or private policy or program, or business that:
empowers the individual
supports healthy functional families
works to create safe and cooperative schools and communities
develops a sustainable balance between the environment and the economy