When:
February 5, 2020 @ 6:00 pm – 8:00 pm
2020-02-05T18:00:00-08:00
2020-02-05T20:00:00-08:00
Where:
Unitarian Universalist Comm
246 So Church St. Grass Valley
A FREE WORKSHOP WITH GEORGE LAKEY—HOW WE WIN: NONVIOLENT DIRECT ACTION FOR CLIMATE JUSTICE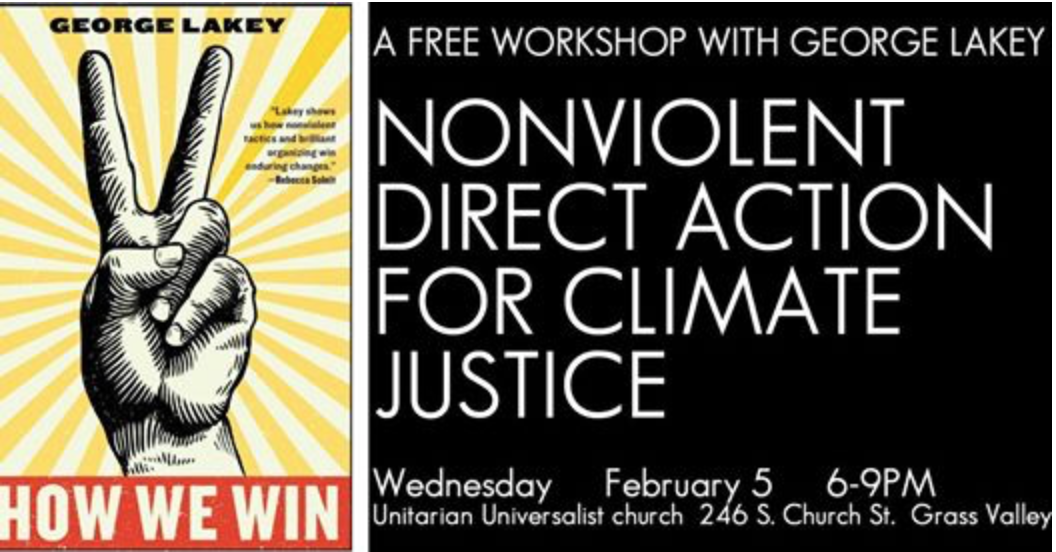 This workshop will present effective grassroots strategies and tactics for climate justice and building coalitions. George Lakey is the author of How We Win: A Guide to Direct Action Campaigning. For six decades he has been active in many social movements—working with the civil rights movement, U.S. and Canadian unions, the LGBTQ community, and a successful Quaker direct action campaign against mountaintop removal coal mining in Appalachia. Reverend Dr. Bernice King, CEO of the Martin Luther King, Jr. Center for Nonviolent Social Change called his early writing on direct action "literally a life-saver for many during the height of the struggle for Black freedom and dignity in the 1960s." He was arrested in January as part of a protest campaign in D.C. urging Congress to act responsibly in the climate crisis. After the workshop, he will also lead all who are interested in singing show tunes.
Unitarian Universalist Community 246 So. Church St. Grass Valley More information here
It is co-sponsored by Grass Valley Friends Meeting (Quakers), Woolman, & Unitarian Universalist Community of the Mountains.