When:
April 27, 2018 @ 7:00 pm – 8:00 pm
2018-04-27T19:00:00-07:00
2018-04-27T20:00:00-07:00
Where:
Madelyn Helling Library
980 Helling Way
Nevada City
CA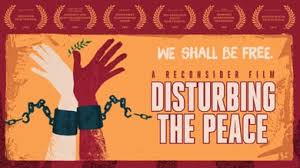 The Peace Center's Fourth Friday Film, "Disturbing the Peace" follows a group of former enemy combatants – both Israeli soldiers from the most elite units, and Palestinian fighters, many of whom served years in prison – who have come together to challenge the status quo and say "enough is enough!" The film traces their transformational journeys from soldiers committed to armed battle to non-violent peace activists and their founding of Combatants for Peace (CFP). While the film is based in the Middle East, it creates an experience that addresses universal themes that are relevant to all of us – regardless of geography. It is a story of the human potential unleashed when we stop participating in the story of endless wars that no longer serves us, and with the power of our convictions towards peace as we take action to create new possibilities.
"Disturbing the Peace" shows Friday April 27, 2018 at 7:00 p.m. at the Madelyn Helling Library, 980 Helling Way (near the Rood Center), Nevada City. Come for the film, and stay for the discussion to follow. $6.00-$10.00 suggested donation. Beverages and treats available.