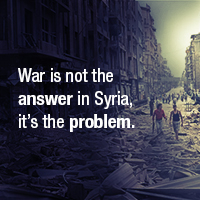 Following the horrific chemicals weapons attack on Syrian civilians this week blamed by the media on President Bashar al-Assad, the Trump administration expanded U.S. involvement in the Syrian war by attacking a Syrian airbase after first informing the Russians.
What the Trump administration didn't do was increase diplomacy in search of an end to violence. Nor did it send more humanitarian aid or make life easier for Syrian refugees. They reacted with the tried and failed military-first approach. Members of congress from both parties have pointed out that the Trump administration does not have the authority to launch this attack without congressional authorization. Furthermore, this attack was against international law.
The American Friends Committee on National Legislation suggests that the U.S. do the following instead of further bombing.
The U.S. should fully support the Organization for the Prohibition of Chemical Weapons' ongoing investigation of the chemical weapons attack and work with the international community to bring the perpetrators to justice.
Congress must take back its constitutional authority to decide when and if the U.S. goes to war. Congress should demand a vote on authorizing military force and oppose any further military action in Syria.
The Trump administration should immediately meet with Russia, Iran, and the Gulf States to revive international negotiations that will lead to a diplomatic solution.
The U.S. should promptly increase resettlement of Syrian refugees and send more humanitarian aid to the region.